We are a Miniature American Shepherd breeder located in Irishtown, New Brunswick. We raise quality working Miniature American Shepherd puppies that properly perform while conforming to the breed standard. Here at Riverside we strive to produce puppies with sound structure, good temperaments, and correct Miniature American Shepherd type to ensure that our dogs are able to perform their job accurately.  
We are members in good standing with the American Kennel Club, Canadian Kennel Club and the Agility Association of Canada. Annette, the owner of Riverside, is also a certified Canine Evaluator with the Canadian Kennel Club.
Our Miniature American Shepherd puppies are handled daily on an individual basis so we get to know their personalities and can help place them in a suitable family. Our program allows us to make the best match for our puppies AND our families. Riverside puppies are well socialized within our home and family, as well as temperament tested. These babies are de-wormed and arrive to their families with a health and temperament guarantee.

Our adult Miniature American Shepherds have their hips tested through the Orthopedic Foundation for Animals and have eyes tested for genetic abnormalities before breeding.Our pack enjoys our beautifully treed 3 acres to run and play , hiking and doing agility, obedience and rally. Our dogs are registered with the American Kennel Club as purebred Miniature American Shepherds only and since July first are Registered Canadian Kennel Club. 

Miniature American Shepherds range in height from 14 to 18 inches and generally weigh between 17 and 35 pounds (depending on body type and activity level). Our dogs are able to do a full days work, compete in
agility, showing, herding, flyball, rally ,obedience and therapy as well as the role of your constant shadow and best friend. Talk about versatile! 

Whatever venue you choose, your Miniature American Shepherd puppy should excel (with the correct training of course). 

Thank you for stopping buy to see the puppies here at  Riverside Miniature American Shepherds! Enjoy our website and feel free to message us with any questions that you may have regarding our dogs and this AMAZING breed.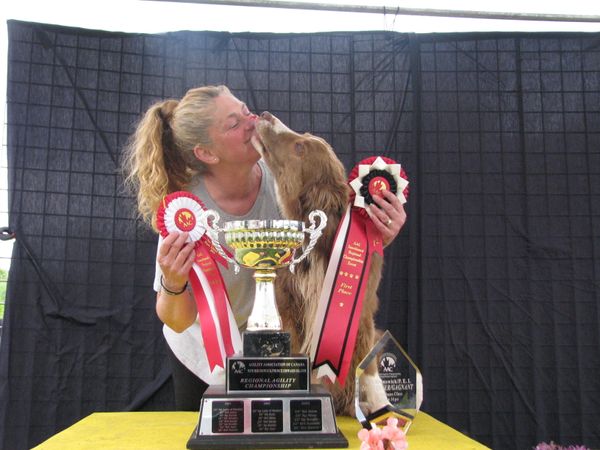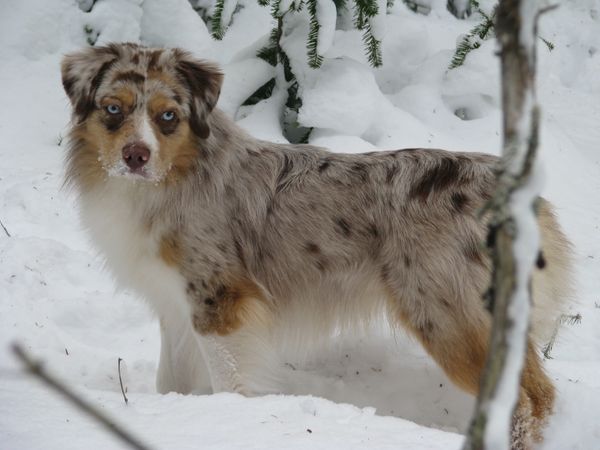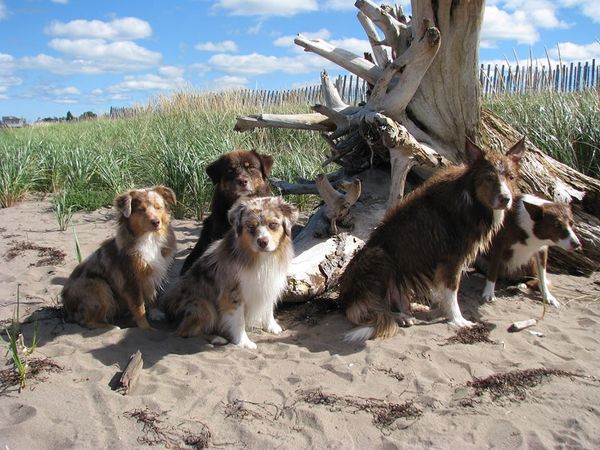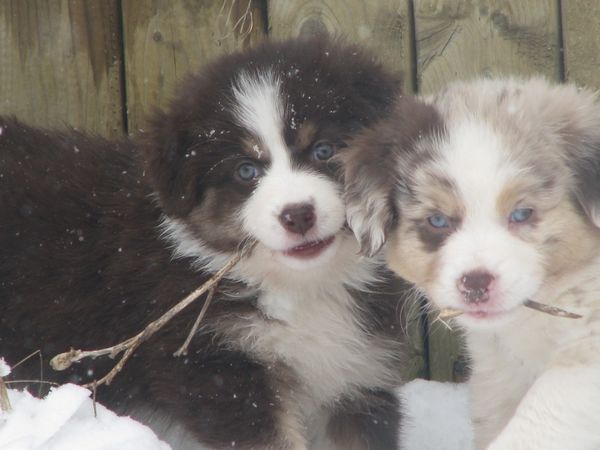 Proud member of the Miniature American Shepherd Club of the USA, INC. and the Miniature American Shepherds of Canada Club. Breed clubs representing and promoting the breed in North America.